Mini-post
Ok, a lot has happened in recent times, and I've started to fall behind on my posting, so I'ma speed things up a bit.
On saturday, we went to the vatican museum, home of the Sistine chapel. It was a very nice museum, but at the time, my foot was still large and in charge, so it wasn't a pleasant experience all around. First, the Akers pulled the old "Leave at 6:15 for the museum but it won't open 'till 10 'cause we didn't get our facts straight" routine, which quite honestly gets me EVERY time... BUT, while we were in line, we saw a motorino accident. Guy was fine, but his scooter was on the recieving end of a low-speed SUV. It was strange... there was no damage to anything or anyone that I could tell, but he still left his scooter lying in the middle of the road for a good hour while waiting for the cops to show up. Had I been driving, I woulda run over the bloody thing, but that's just me. So, yeah, we were waiting in line.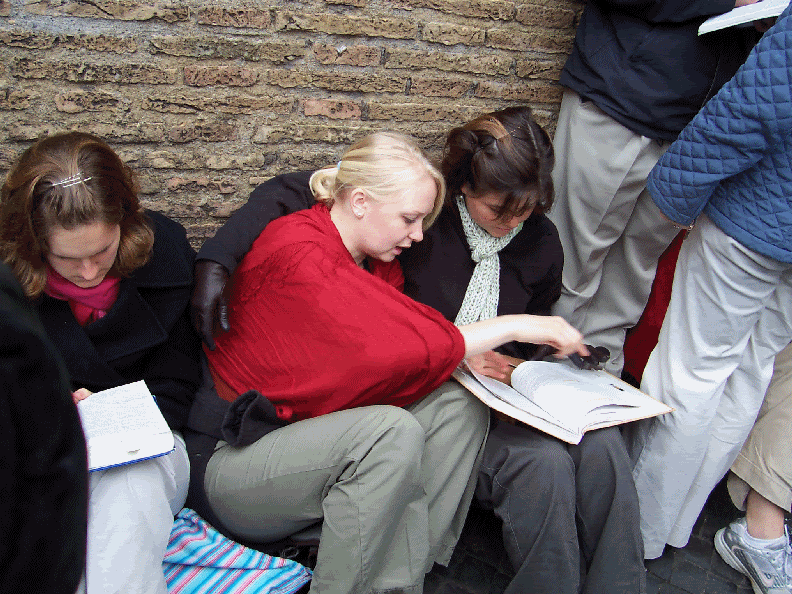 Kak read Bridget a bedtime story. Bridget liked the pictures!!
Then we got inside, where camera were more or less outlawed, and the laws were more or less ignored. Mostly more. When we got in the Sistine Chapel, the "no photography" sin was illuminated by the flash of a thousand cameras per second... would you believe that wasn't the most ironic thing? The most ironic thing, in my opinion, was the booming loudspeaker that went off every five minutes asking people to be quiet.
Italy is very confusing sometimes.
Anyway, we wandered a bit for a while. Then we went outside, and I looked at this: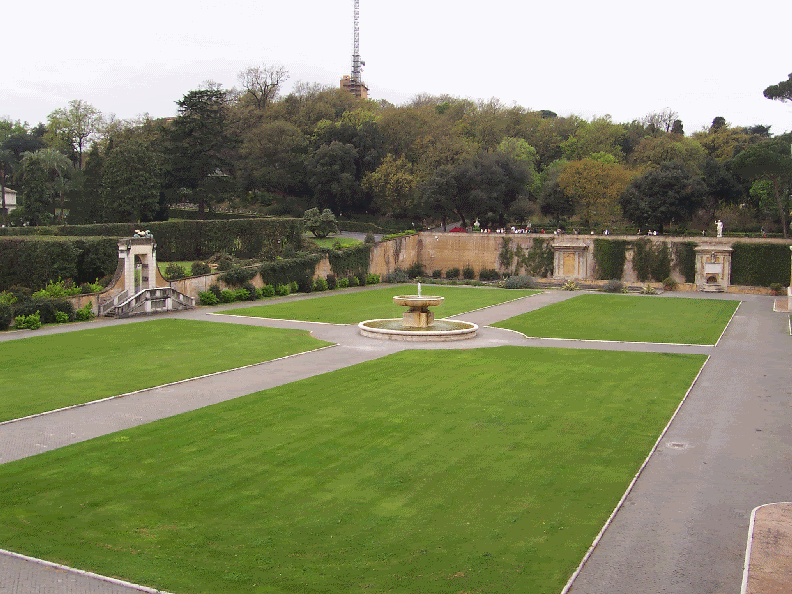 Rob and Kyle decided they want this in their back yards.
So, um... we wandered some more... I honestly didn't take many pictures. OH, I wanted to say something.
For every museum we've visited, or basilica, or whatever, as soon as we first enter the room, music would always play in my head. Y'know, that generic "English art museum" music? Dun dun dun DUH-NUH-NUHH, DUH-NUH-NUHH, nuh NUH nuh-nuh... Like that. Well, the second I walked into the Sistine Chapel and looked up, the music stopped. I've been playing that moment in my head over and over since we got here, but like in so many good things in life, it surpassed anything my imagination could conceive of. Being there, and seeing the work, was truly amazing... I think my favorite painting on the ceiling wasn't the creation of Adam, but the separation of light and darkness... very cool. Anyway, I won;t bore you guys with my new-found soft, emotional side... I try to repress it, but it comes out on this blog every now and again.
Then again, maybe I'm just losing it from staying up past 4 for 4 of the past 5 nights... it's been one of THOSE weeks. So, forgive my shortness, and strange attitude. Believe it or not, I'm actually planning on getting up at 5:30 tomorrow to go to the Holy Steps.
Hmm.... oh, for those of you that are no one that I've mentionned this to... did that makes sense?... anyway, I finally have the music I want to make little music videos of pictures and movie clips from our trip here, so I might get to work on that tomorrow, or much more likely, saturday... might be fun. Crud, I have another picture from outside the museum. I'll leave you guys with it. G'night... have a blessed Good Friday, and a rockin' Easter.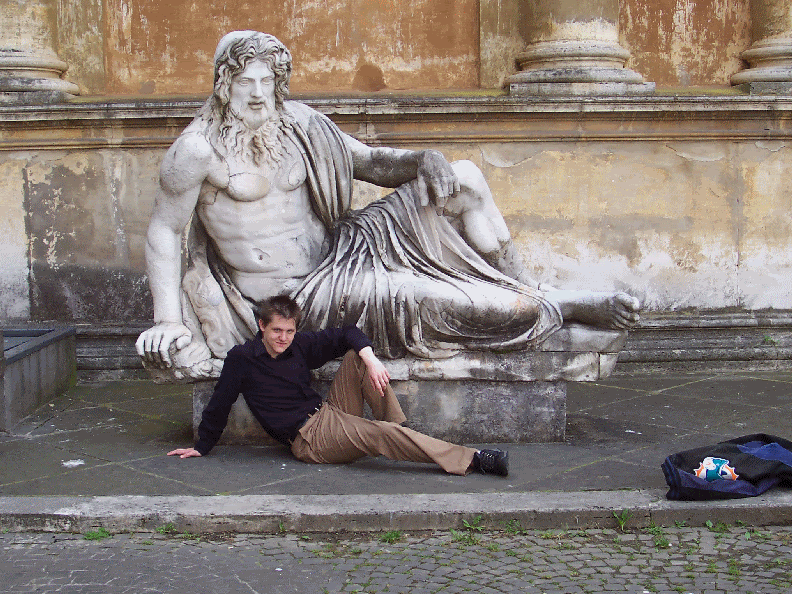 Pfft... I'd look impressive TOO if I took MY shirt off... and worked out regularly... and had a beard like that... and was a roman god, or whoever this dude is. Whatever.
Ciao!
--Hich