Juggling all my various online-updating-service-things.
Oi... and I thought I was giving in when I signed up for BlogSpot.
Now I've given in to Facebook peer pressure. Hence why there's been a lack of updates here... I've been maintaining the facebook things. Now I have to post ALL these friggin' pictures TWICE! But, I'll do my best, to keep you all happy. See, for those of you that can see BOTH of my online-update-things, you should still read both. On facebook, I'll post MORE pictures, but LESS story behind them, whereas HERE, you get the background of the pictures, and better live vicariously through me!! So, don't abandon me here! NEED ME!!!!!
ANYway, I suppose I owe you some aforementioned pictures. Where have I been lately? Ahh, yes....
So first, about a week ago, Carissa Gubash turned 21(woo!!). Woo!! Heap good times! So, to celebrate, a bunch of us went to the Abbey Theatre. I love the Abbey Theatre...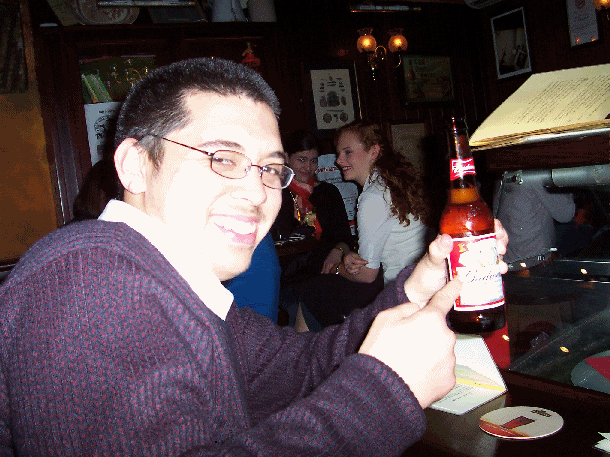 Oh Rob, you can't be stopped. Always with the beer... that I make you pose with... Rock on, brother!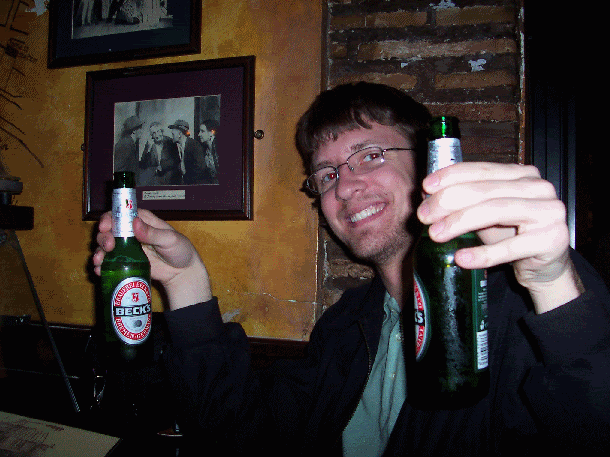 A man with two beers envies NO MAN.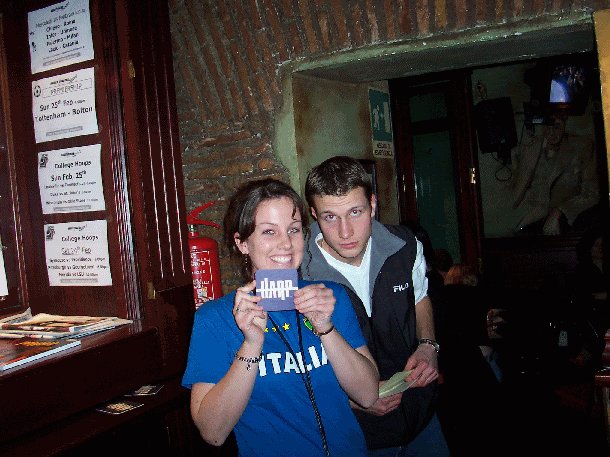 I don't think Emily knew Micah was there... Kinda creepy. All the girls loved thier Harp!!
Then, we went to St. Agnes outside the walls... pretty cool story there, with Constantine building a church to St. Agnes 'cause his daughter had a big devotion to her. Here's a picture of what's left of the original church: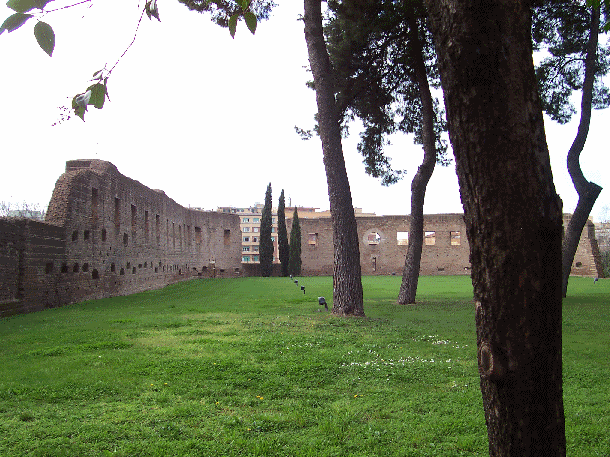 Gotta hand it to him, Constantine keeps up a fine-lookin' lawn!
So then, for a long time, nothing happened. Then, yesterday, we all went to the Subiaco!! That, for you less informed folks, like myself, is where St. Benedict went to live in a cave for three years. So, maintaining the caves, some benedictines build a church and stuff around it. Gotta say, it was a pretty sweet view.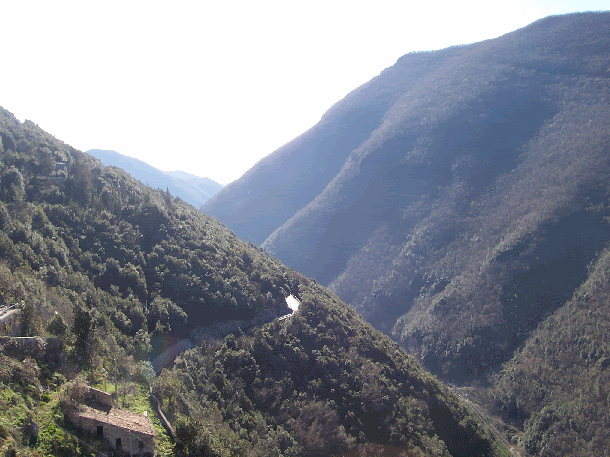 The view from one of the ledges. I took a few pictures from there - won't post them all, of course, but here's one, aaannnndddd...

Here's the other - I jerry-rigged a panarama view... I think it came out pretty well.
So those were the mountains. Once you get into the church area (There were several buildings... it was quite the cool place), there was the church, the actual cave, and so forth... I took some pictures, but again, I won't post 'em all. It'd spoil some surprise, or another. The cool thing, though, is in the courtyard. Apperently...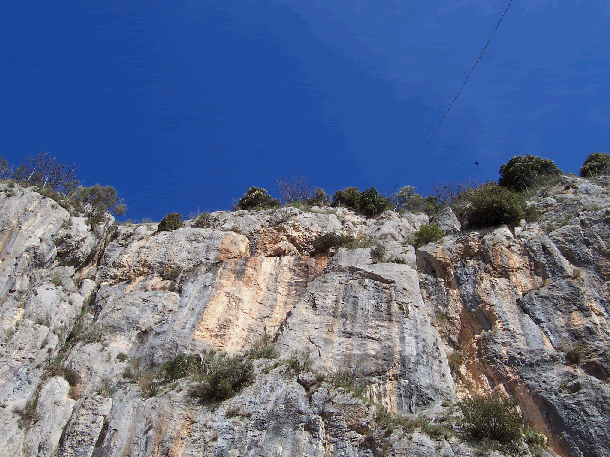 Up THERE, on top of the cliff above the courtyard, there used to be a gigantic rock balanced percariously on the ledge. Of course, the benedictines were always wary about it, fearing it would someday fall and destroy thier noble community. Lacking the technology to safely remove it, they built instead a statue of St. Benedict holding his hand out, defying the rock. They put it in the courtyard, asking St. Benedict to protect thier church and courtyard. Well, apperently, it worked. The rock never fell for hundreds of years, until they finally had TNT, or a crane, or something, to safely remove the rock.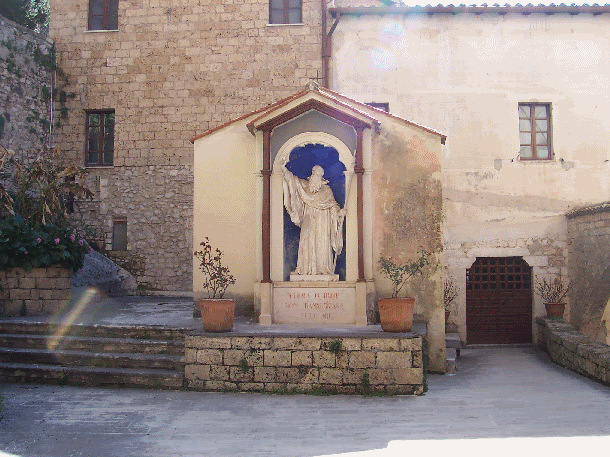 The translation under the statue says: "Stop, O rock, do not harm my sons."
And so, it didn't.
So we wondered a bit more, and found another ledge. There was much, much picture taking going on then, and I got in on the action.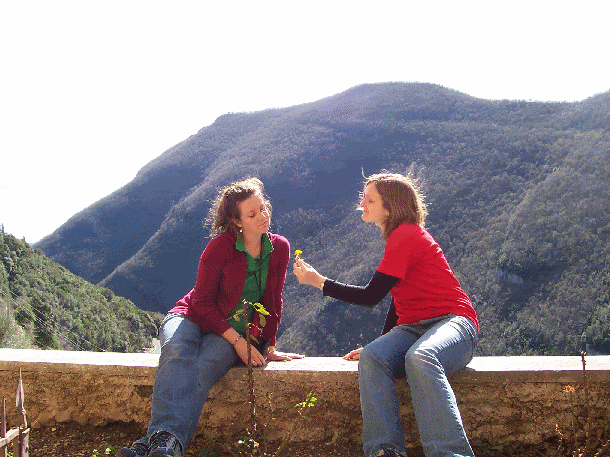 Colleen gave Emily a flower. Awww. And the mountains are cool, too!
So, that's all I have at the moment. I'll post more on Facebook, but it'll just be pictures of people I know, so those of you that DON'T know the people I know, you aren't missing anything.
Allright friends, 'till next time!
Ciao,
--Hich