Covering the second day of Romage...
At least, I THINK it was the second day. Or the third. Anyway, I'm POSITIVE it wasn't the thirty-forth, so... there ya go.
First day of touring. There ya go.
It all started with the flight to Rome. It was long, but not too terrible. After all, I had my laptop for a couple of hours, so I watched Final Sacrifice. Good times. We landed in Paris and got very, VERY lost. That place is WRETCHED!! You know they don't even speak English there?! Idiots... even I can speak English. Anyway, we flew out from Paris for Rome. I started dozing on the plan, but then just happened to glance a window, getting a look at this: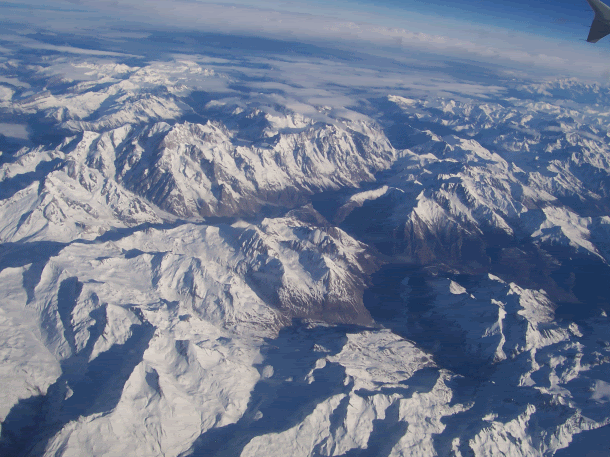 I don't know if you guys have ever heard of the SWISS ALPS, but yeah... holy CRAP! Anyway, I took more pictures than those I'm showing you, but I'm trying to keep it short. So, the tours eventually started. The first day involved seeing the four major basilicas. First stop, St. Mary Major.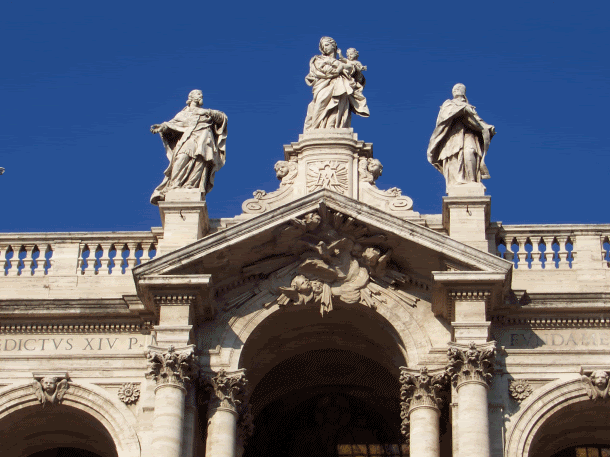 And we even went inside!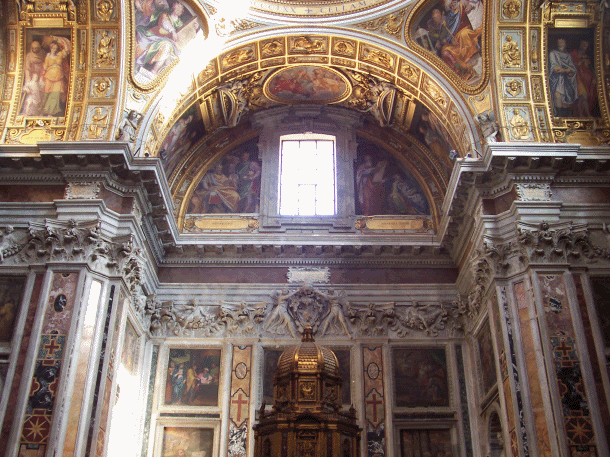 What I DIDN'T take a picture of was the giftshop, where I bought a holy bottle opener, or "Popener", as John Archer called it. Ha!! It's swell.
In case your wondering yet, no, I didn't take many pictures of actual PEOPLE. I will, if y'all want. And I have somewhere between zero and one pictures of myself. Anyway, next stop was St. John Lataran.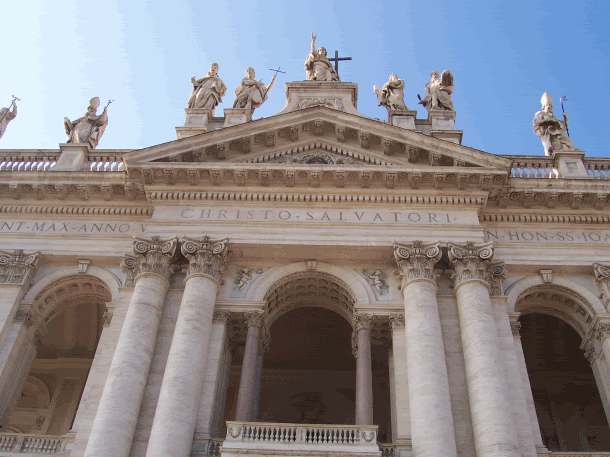 That's a long way up!
I know, I'm going fast, but I gotta go to lunch... I'll post more if you guys want. And speaking of lunch, after those two, we had to stop for lunch.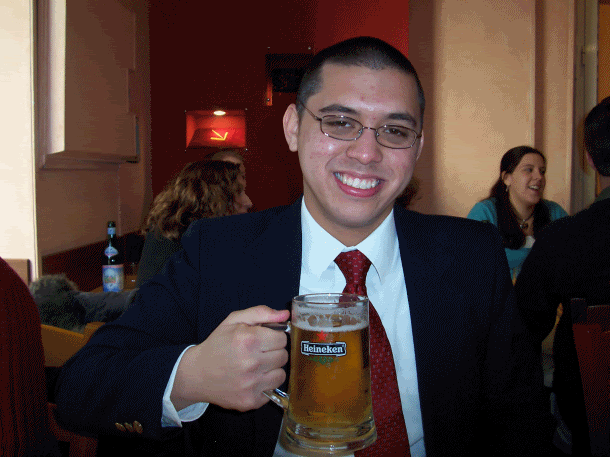 Rob sure was thirsty after all that walking!
Next stop was St. Paul outside the walls. Check out his statue: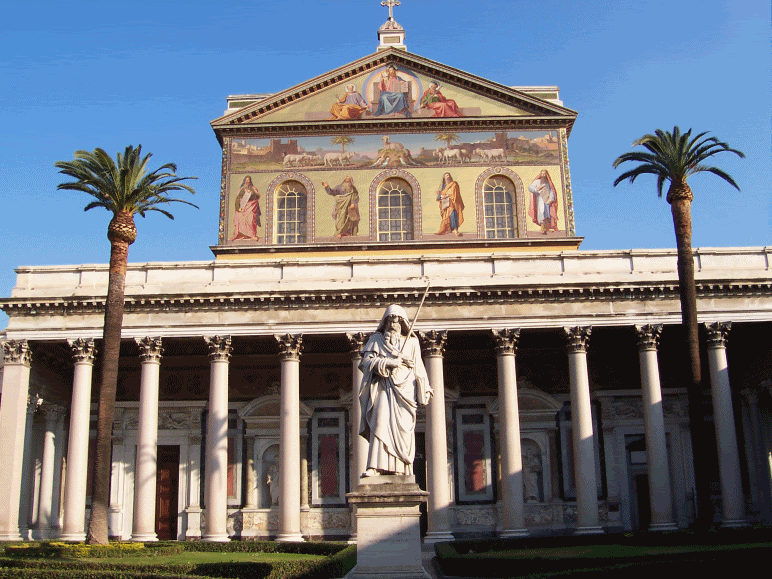 Looks like he's ready to do some damage with that sword! I dodged, however.
All these ceilings, by the way - AMAZING!! I took video, just to show the whole thing... it's just crazy. You'll see eventually.
Last stop was St. Peter's. You might recognise this. I can take better pictures later, since we PASS THIS PLACE EVERY DAY ON OUR WAY TO CLASS!!!!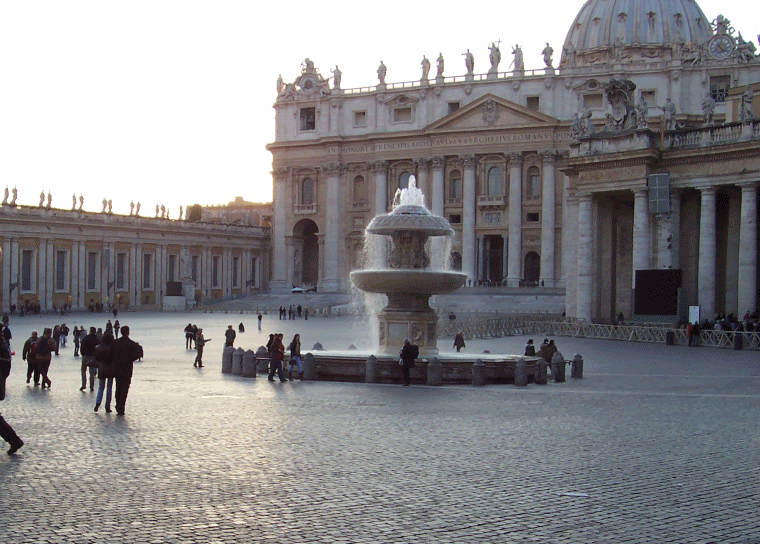 Beware the pigeons.
After all that, we were ready for our first dinner at this restaurant where we usually eat. Good food, but they tend to take a while.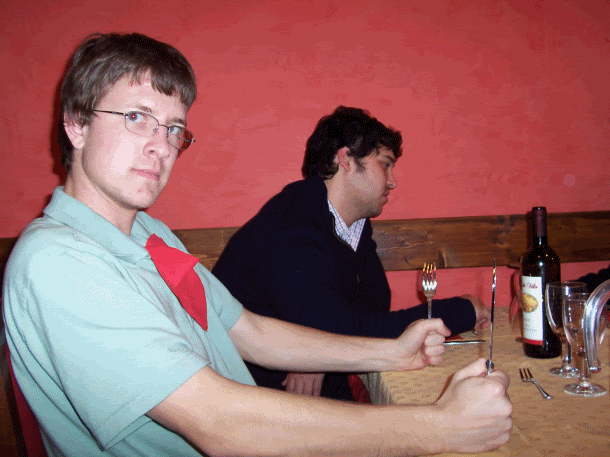 Kyle was ready for dinner after all that, and was NOT enjoying the wait!
Ok guys, sorry - I gotta go again. Pray the internet stays up, and I'll post more later!!
Ciao,
Hich